Introduction:
Infection control is a critical aspect of healthcare delivery, aimed at minimizing the risk of healthcare-associated infections (HAIs). These infections, which patients can acquire during their stay in healthcare facilities, can have severe consequences on their health and recovery. In this blog post, we will explore the importance of infection control measures and the strategies employed to prevent HAIs, ensuring a safer healthcare environment for all.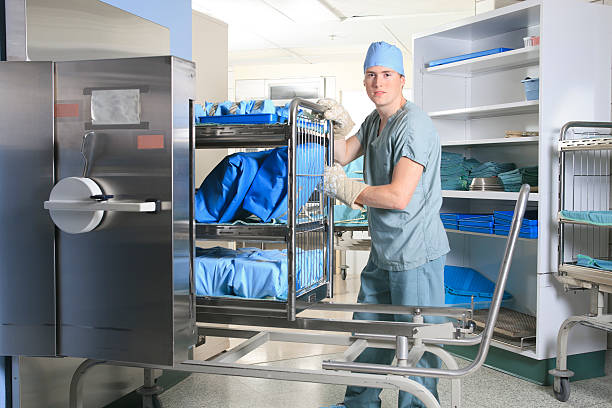 Understanding Healthcare-Associated Infections (HAIs):
HAIs are infections that patients acquire while receiving medical care in a healthcare setting. They can occur in hospitals, clinics, long-term care facilities, and even during home healthcare. Common types of HAIs include surgical site infections, urinary tract infections, bloodstream infections, and pneumonia. These infections can lead to prolonged hospital stays, increased healthcare costs, and in some cases, even mortality.
Importance of Infection Control Measures:
Effective infection control measures are crucial in preventing the spread of HAIs. They protect patients, healthcare workers, and visitors from potentially harmful pathogens. By implementing comprehensive infection control strategies, healthcare facilities can reduce the risk of transmission, improve patient outcomes, and enhance overall safety.
Hand Hygiene: The First Line of Defense:
Proper hand hygiene is one of the simplest yet most effective infection control measures. Healthcare workers must perform hand hygiene before and after patient contact, as well as after handling contaminated materials. Thorough handwashing with soap and water or the use of alcohol-based hand sanitizers helps eliminate microorganisms and prevent their transfer between patients and healthcare workers.
Isolation Precautions: Minimizing Pathogen Spread:
Isolation precautions play a crucial role in preventing the transmission of infectious agents. Patients with known or suspected contagious infections are placed in appropriate isolation, which may include contact, droplet, or airborne precautions. Isolation protocols involve wearing personal protective equipment (PPE), such as gloves, masks, gowns, and goggles, and implementing measures to minimize the spread of pathogens within healthcare settings.
Cleaning and Disinfection: Maintaining a Clean Environment:
Thorough cleaning and disinfection of patient care areas and high-touch surfaces are essential infection control practices. Hospital cleaning staff follows strict protocols to ensure the removal of dirt, dust, and microorganisms from surfaces. Effective disinfectants are used to kill or inactivate pathogens, reducing their potential for transmission. Regular cleaning schedules and attention to high-risk areas help maintain a clean and hygienic healthcare environment.
Respiratory Hygiene and Cough Etiquette:
Respiratory hygiene and cough etiquette are crucial in preventing the spread of respiratory infections. Healthcare facilities often display signage reminding patients, staff, and visitors to cover their mouths and noses when coughing or sneezing. The use of tissues or elbow flexion for coughing, along with proper disposal of used tissues, helps minimize the release of respiratory droplets containing infectious agents.
Safe Injection Practices: Preventing Contamination:
Unsafe injection practices can lead to the transmission of bloodborne pathogens, such as hepatitis B and C, and HIV. Healthcare providers follow strict guidelines for the proper handling and disposal of needles, syringes, and other sharps. Single-use items are used whenever possible, and infection control measures are in place to prevent contamination during injections, blood draws, and other procedures.
Surveillance and Antibiotic Stewardship:
Surveillance programs track the incidence and prevalence of HAIs within healthcare facilities. By monitoring infection rates and identifying trends, healthcare providers can implement targeted interventions and improve infection control practices. Antibiotic stewardship programs also play a vital role in preventing HAIs by promoting judicious and appropriate use of antibiotics, minimizing the risk of antibiotic-resistant infections.
Education and Training: Empowering Healthcare Workers:
Education and training programs are essential in ensuring that healthcare workers are knowledgeable about infection control practices. Training includes proper hand hygiene techniques, correct use of personal protective equipment, and understanding the importance of infection prevention measures. Regular updates and reinforcement of infection control knowledge empower healthcare workers to adhere to best practices consistently.
The Power of Expertise: How a Cleaning Company Can Enhance Hospital Cleanliness
Maintaining a clean and hygienic environment in hospitals is crucial for the well-being of patients and the effectiveness of healthcare delivery. While hospitals have dedicated cleaning staff, the expertise and specialized knowledge of professional cleaning companies can significantly enhance hospital cleanliness. In this article, we will explore the various ways in which a cleaning company can contribute to improving cleanliness standards in healthcare facilities. 
Advanced Cleaning Techniques and Equipment:
Professional cleaning companies have access to advanced cleaning techniques and state-of-the-art equipment specifically designed for healthcare settings. They employ innovative technologies such as electrostatic sprayers, UV disinfection systems, and high-efficiency particulate air (HEPA) filters, which can effectively eliminate pathogens and ensure thorough cleaning of surfaces and air. These cutting-edge tools help achieve a higher level of cleanliness that may be challenging to attain with conventional methods.
Comprehensive Cleaning Protocols:
Cleaning companies specializing in healthcare facilities understand the unique challenges associated with maintaining cleanliness in hospitals. They develop comprehensive cleaning protocols tailored to the specific needs and requirements of healthcare environments. These protocols address high-touch surfaces, patient rooms, operating rooms, waiting areas, and other critical areas. By implementing detailed and customized cleaning plans, cleaning companies can ensure that no area is overlooked, promoting a cleaner and safer hospital environment.
Trained and Certified Cleaning Staff:
Professional cleaning companies invest in training their staff members to meet the high standards of healthcare cleaning. Their cleaning personnel receive specialized training on infection control measures, proper handling of hazardous materials, and the use of cleaning agents specific to healthcare settings. With their expertise, these trained professionals can effectively and efficiently clean and disinfect various areas within the hospital, ensuring a hygienic environment.
Adherence to Regulatory and Industry Standards:
Cleaning companies well-versed in healthcare cleaning are knowledgeable about the stringent regulatory and industry standards that hospitals must comply with. They stay up to date with guidelines and recommendations from organizations such as the Centers for Disease Control and Prevention (CDC) and the Occupational Safety and Health Administration (OSHA). By adhering to these standards, cleaning companies can help hospitals maintain compliance while delivering a high level of cleanliness.
Enhanced Infection Control Measures:
Infection control is of paramount importance in healthcare facilities. Professional cleaning companies understand the critical role they play in preventing healthcare-associated infections (HAIs). They employ rigorous infection control measures, such as color-coded cleaning systems to prevent cross-contamination, proper waste disposal protocols, and the use of EPA-approved disinfectants effective against healthcare pathogens. By implementing these measures consistently, cleaning companies contribute significantly to reducing the risk of HAIs.
Regular Quality Assurance and Inspections:
Cleaning companies often have robust quality assurance programs in place to ensure that their services consistently meet high standards. They conduct regular inspections and audits to assess the effectiveness of their cleaning protocols and identify areas for improvement. These proactive measures help maintain accountability and ensure that hospitals receive top-notch cleaning services, ultimately enhancing hospital cleanliness.
Conclusion:
Preventing healthcare-associated infections requires a multi-faceted approach that combines strict adherence to infection control measures, robust surveillance programs, and continuous education and training. By implementing these strategies, healthcare facilities can create a safer environment for patients, healthcare workers, and visitors. Together, we can reduce the risk of HAIs, enhance patient outcomes, and promote the overall well-being of all individuals involved in healthcare delivery.
Partnering with a professional cleaning company can greatly enhance hospital cleanliness by harnessing their expertise, advanced techniques, and adherence to industry standards. The combined efforts of hospitals and cleaning companies can create a safer and healthier environment for patients, staff, and visitors. By recognizing the power of expertise, hospitals can optimize their cleaning practices and provide the highest level of cleanliness to support optimal healthcare outcomes.