Introduction:
Proper waste management in hospitals is a critical component of maintaining a safe and hygienic healthcare environment. Hospitals generate various types of waste, including infectious waste and sharps, which require special handling and disposal procedures to prevent the spread of infections. In this blog post, we will delve into the importance of effective waste management in hospitals, highlighting the proper disposal methods for infectious waste and sharps.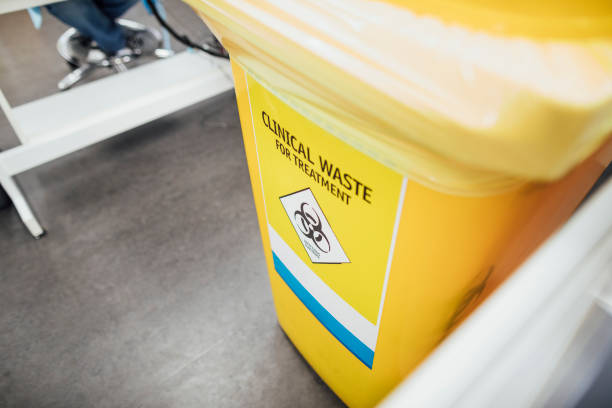 Understanding Infectious Waste:
Infectious waste, also known as biomedical or biohazardous waste, refers to any waste that may contain infectious materials, such as blood, bodily fluids, or tissues. This waste poses a risk of transmitting infections to healthcare workers, patients, and the general public if not managed properly. It is essential to handle and dispose of infectious waste in accordance with established guidelines and regulations.
Segregation and Containment:
To ensure proper waste management, hospitals have specific protocols for segregating and containing infectious waste. Waste bins or containers labeled with biohazard symbols are strategically placed in designated areas throughout the facility. Healthcare providers and staff are trained to segregate infectious waste from other types of waste promptly. This segregation prevents cross-contamination and facilitates safe disposal.
Safe Handling and Packaging of Sharps:
Sharps, such as needles, scalpels, and syringes, pose a significant risk of injury and infection if not handled and disposed of correctly. Hospitals employ strict protocols for the safe handling and packaging of sharps. Disposable puncture-resistant containers are available in all patient care areas for immediate disposal of used sharps. These containers are designed to prevent accidental needlesticks and are disposed of following specific guidelines.
Disposal Methods for Infectious Waste:
Hospitals must follow regulations and guidelines for the proper disposal of infectious waste. Common disposal methods include incineration, autoclaving, and alternative treatment technologies. Incineration involves high-temperature burning of waste, ensuring complete destruction of pathogens. Autoclaving, or steam sterilization, is a widely used method that involves subjecting waste to high-pressure steam, effectively killing microorganisms. Alternative treatment technologies, such as microwave treatment and chemical disinfection, may also be employed based on local regulations and facility capabilities.
Regulatory Compliance and Documentation:
Proper waste management in hospitals involves strict adherence to local, state, and federal regulations. Healthcare facilities must comply with guidelines set by agencies such as the Environmental Protection Agency (EPA) and the Occupational Safety and Health Administration (OSHA). Compliance includes appropriate licensing, record-keeping, and documentation of waste disposal processes. Hospitals must maintain accurate records of waste generation, transportation, and disposal to demonstrate their commitment to responsible waste management practices.
Training and Education:
Effective waste management requires the active involvement and cooperation of healthcare providers, support staff, and cleaning personnel. Hospitals invest in training programs to educate their staff on waste management practices, emphasizing the importance of proper segregation, handling, and disposal. Regular training sessions, coupled with clear signage and reminders, promote a culture of responsible waste management throughout the facility.
Environmental Considerations:
In addition to infection prevention, hospitals also recognize the importance of environmental sustainability in waste management. Many healthcare facilities are implementing strategies to reduce waste generation, promote recycling, and minimize the environmental impact of their operations. By adopting environmentally friendly practices, hospitals can contribute to the overall well-being of the community and foster a more sustainable healthcare system.
Outsourcing Hospital Waste Management and Cleaning Services
In the healthcare industry, effective waste management and cleaning services are crucial for maintaining a safe and hygienic environment. As hospitals face increasing demands, many are considering the option of outsourcing these services. In this blog post, we will explore the advantages and considerations of outsourcing hospital waste management and cleaning services, highlighting the potential benefits and key factors to consider when making this strategic decision.
Specialized Expertise:
Outsourcing waste management and cleaning services to specialized companies brings the advantage of expertise in healthcare facilities. These companies have in-depth knowledge of waste disposal regulations, infection control protocols, and best practices specific to the healthcare sector. Their specialized training and experience enable them to handle various types of waste, including hazardous materials, sharps, and biomedical waste, in a compliant and efficient manner.
Compliance with Regulatory Standards:
Healthcare waste management is subject to strict regulatory guidelines to ensure the protection of public health and the environment. Outsourcing to professional waste management companies ensures compliance with these standards. These companies stay updated on evolving regulations and implement the necessary protocols to meet legal requirements. By partnering with an outsourcing provider, hospitals can mitigate the risk of non-compliance and associated penalties.
Efficient Resource Allocation:
Outsourcing waste management and cleaning services allows hospitals to allocate their resources more efficiently. By relying on external experts, hospitals can redirect their staff and resources towards core healthcare activities, such as patient care and medical services. This optimization of resources can enhance operational efficiency, improve patient satisfaction, and contribute to better overall healthcare outcomes.
Access to Advanced Technology and Equipment:
Professional waste management companies invest in advanced technology and equipment to streamline waste collection, segregation, treatment, and disposal processes. By outsourcing, hospitals gain access to these cutting-edge resources without the need for significant capital investment. Advanced technologies, such as waste tracking systems and automated waste segregation processes, can enhance efficiency and minimize the risk of human error.
Comprehensive Services:
Outsourcing waste management and cleaning services often provides hospitals with comprehensive solutions. In addition to waste disposal, outsourcing providers may offer additional services such as recycling programs, biohazardous waste treatment, and sharps management. This comprehensive approach ensures that all waste streams are appropriately managed, promoting sustainability and environmental responsibility.
Risk Mitigation:
Outsourcing waste management and cleaning services can help hospitals mitigate risks associated with improper waste handling and disposal. Professional service providers employ stringent safety protocols and implement best practices to minimize the risk of accidents, infections, and regulatory violations. With their specialized training and expertise, they can effectively manage and mitigate potential risks associated with waste management.
Considerations:
Vendor Selection:

Choosing a reputable and experienced outsourcing provider is crucial. Evaluate their track record, certifications, compliance history, and references from other healthcare facilities.

Service Level Agreements (SLAs):

Establish clear SLAs that outline the scope of services, performance expectations, and key performance indicators (KPIs). These agreements ensure accountability and help monitor service quality.

Communication and Collaboration:

Maintain open and transparent communication with the outsourcing provider to ensure alignment with hospital goals, policies, and specific requirements.

Data Security and Confidentiality

: Establish protocols to safeguard patient information and sensitive data during the waste management and cleaning processes.

Continuity of Service:

Ensure that the outsourcing provider has contingency plans in place to maintain service continuity in case of emergencies or disruptions.
Outsourcing hospital waste management and cleaning services can offer significant advantages, including specialized expertise, regulatory compliance, efficient resource allocation, access to advanced technology, and comprehensive solutions. However, careful consideration of vendor selection, clear SLAs, effective communication, and data security is essential for successful outsourcing. With proper planning and collaboration, hospitals can optimize
Conclusion:
Proper waste management, specifically the disposal of infectious waste and sharps, is crucial for maintaining a safe and hygienic healthcare environment. Hospitals follow strict protocols to ensure the segregation, containment, and appropriate disposal of infectious waste. By adhering to regulatory guidelines, providing adequate training, and promoting environmental sustainability, hospitals can safeguard the health of their staff, patients, and the surrounding community. Responsible waste management practices are a vital part of delivering quality healthcare and preventing the spread of infections.